The Terminator 2 Pinball Machine is manufactured by Williams, makers of some of the greatest pinball machines in history.
This fantastic machine will make a great addition to any pinball arcade or collection. One of the most memorable and explosive movies of the 1990s, Terminator 2: Judgment Day makes an exciting and attractive pinball machine.
Featuring Arnold Schwarzenegger's likeness and voice, several game modes and a series of pinball firsts, including the first autoplunger in pinball, the first game designed to use a dot matrix display and the first game with a video mode, Terminator 2 is a fantastic pinball machine that's a hit with fans of the movie and pinball fans alike. Buy new pinball machines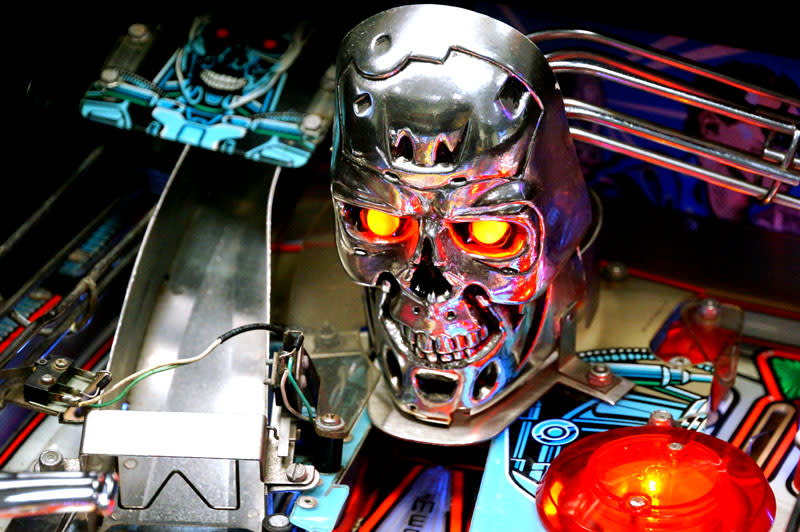 Features:
Take control to fight off the T1000 Terminator through motorcycle chases, chaotic multiball modes and the lucrative 'Payback Time'.
Take aim using the industry-first swinging canon to launch balls at targets across the playfield.
Fire your ball into play using the unique gun grip launcher.
Lock balls under the glowing T800 endoskull to begin multiball.
Steal the CPU from Cyberdyne Systems to begin 'Payback Time'.
Custom speech call outs from Arnold Schwarzenegger.
Condition:
This pinball machine has been fully reconditioned to a brilliant condition and has been through a thorough inspection to ensure that it plays perfectly with no errors.
Reconditioning and Servicing – 26 Point Checklist:
Buying a pinball can be a lot like buying a car: there can be problems underneath the bonnet that you wouldn't even know about, until they interrupt your fun!
It's worth noting that pinball machines are complicated in their workings. There are pitfalls to buying a second hand pinball machine elsewhere, and if you don't know what to look for, you can have an incomplete machine running at less than its potential. Furthermore, you could purchase a machine that is 20-30 years old and has a serious electrical fault.
However, every machine that comes through our doors undergoes an extensive 26-point check with our trained engineer. This service is exclusive to every pinball we sell at Home Leisure Direct. All machines undergo a full PAT test by a fully qualified engineer to eliminate any risk. We also check everything including the lighting, coils, flippers, full mechanics, electronics and everything else in between. These checks ensure that all components are rigorously tested and working.
This even includes cosmetic touch ups and a full wax clean. We complete this 26-point check to ensure your new pinball machine is in tip-top working order and ready to spend a new life with its new owner.